Isleños came to Louisiana from the Canary Islands--a cluster of thirteen islands off the African coast. Of Spanish ancestry, they were and remain, known as Isleños, a term used to distinguish them from the peninsulares (natives of the Iberian peninsula). 
Arriving between 1778 and 1783, nearly 2,000 Isleños immigrated to Louisiana from five of the seven inhabited Canary Islands--Lanzarote, Gran Canaria, Tenerife, La Palma, and Gomera. The Louisiana government recruited the Canary Islanders to defend the colony and to increase its food production.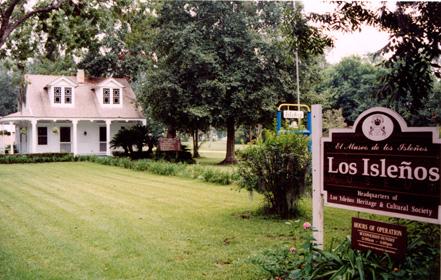 Isleños Center in St. Bernard Parish
Upon arrival in the lower Mississippi Valley, Isleño immigrants established four frontier settlements: Galveztown, near present-day Gonzales (Ascension Parish); Valenzuela along upper Bayou Lafourche (Assumption Parish); Barataria in lower Jefferson Parish; and La Concepcíon or San Bernardo in St Bernard Parish. Because of miserable living conditions in the swampy areas surrounding the first settlements, many of the settlers eventually made their way to St. Bernard Parish. Those individuals who chose not to migrate to St. Bernard Parish generally intermarried with Acadians who were already established in areas adjacent to Louisiana's original Isleño settlements.  
The St. Bernard Parish community is the focal point of modern Isleño studies. Its geographical isolation helped preserve the group's language and traditions. Throughout their Louisiana experience, Isleños have earned a livelihood by small scale farming and ranching, hunting, trapping, and fishing. Though many of the present generation now work in the chemical and industrial plants near New Orleans, some St. Bernard Isleños continue to fish the state's southeastern waters. 
by Diana C. Monteleone