Unlike other major Louisiana immigrant groups, the first Hungarian Americans did not travel to the Pelican State by way of the Port of New Olreans. Instead, they migrated by train from the Northeastern ports, where they had entered the United States.
Arriving in 1896, they were enticed by Hungarian-language newspapers, printed in Eastern and Midwestern states, to move to Louisiana. The Bakenridge Lumber Company, which operated a mill near present-day Hammond, Louisiana, advertised for workers. The immigrants responding to the ad were established in the mill community of Maxwell, where they were joined to later immigrants traveling directly from the Old World.
Life in the Pelican State:
Because the lumber company sold cut-over timberland at reasonable prices, the Hungarian worker eventually bought several acres for himself. A community soon emerged. The resulting settlement, popularly known as Hungarian Settlement, was first Arpahdon for a legendary Hungarian hero. 
The early Hungarian settlers were extremely industrious, managing farm chores before and after twelve-hour workdays in the lumber mill. The Hungarians' social and spiritual lives  revolved around the two churches built in their community in the early twentieth-century--a Presbyterian church and St. Margaret's Catholic Church. Religious services were held in their native Hungarian language, and the two church communities formed a common social bond despite their religious differences. The resulting sense of cultural unity was reinforced by the community's sense of isolation in the piney woods of Louisiana's Florida Parishes, and the Hungarian's ethnic identity flourished for decades.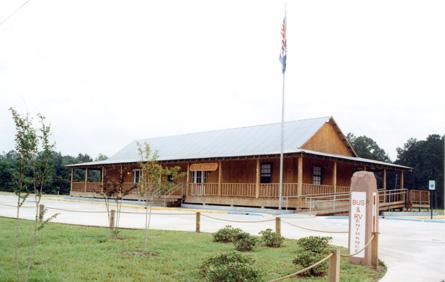 Hungarian Info Center
The Brakenridge Lumber Company closed its mill in 1916, and the local inhabitants subsequently transformed the area into a farming region. A railroad was established just north of Arpadhon, causing many Hungarian settlers to move closer to the depot established in the new town of Albany. In 1935, the Arpadhon community peaked at nearly 200 resident families, consisting of approximately 1,500 persons. Although early settlers insisted that younger generations marry exclusively within the group, second and third-generation Hungarian-Americans frequently married across ethnic boundaries, resulting in some cultural dilution. 
Current residents of Hungarian Settlement are working to foster preservation of their identity through organizations of an historical society, a museum, and a harvest festival, which includes food, music, and dancing. Local businesses in the vicinity of the original settlement offer Hungarian sausages and pastries year-round.
by Diana C. Monteleone